You may not realize it, but chess tournaments are a pretty big deal. In fact, they're played by millions of players worldwide each year. Let's have a look at the history of chess tournaments, and how big they are around the world.
History of Chess Tournaments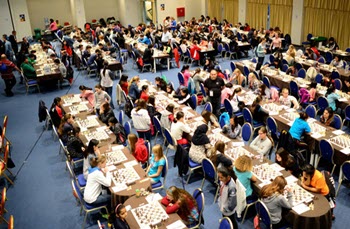 Despite chess being played for over a thousand years, the first record of an actual chess tournament is from Leeds, UK, in the mid-nineteenth century. These quickly spread throughout the UK, USA, and Europe over the next couple of decades. The first international chess tournament was held in London in 1851, at the Great Exhibition.
By the early twentieth century, they had grown so much in popularity that there were calls to introduce chess to the (then relatively new) Olympic Games. However, attempts to introduce it were ultimately un-successful. Therefore, a world championship chess tournament was introduced instead – the Chess Olympiad.
The First Worldwide Chess Tournament
The Chess Olympiad was first held in July 1927 in London. In the opening tournament there were 16 participating nations. All of the countries that took part were from Europe, apart from Argentina. Hungary won the overall tournament.
The tournament has grown from strength to strength over the last 90 years. They are now held every two years, with the last one being held in Baku, Azerbaijan, in 2016, and the next one being held in Batumi, Georgia, in 2018. They are now noticeably bigger in scale than their humble beginnings. In Baku, teams from 175 countries took part. The United States won the men's tournament, and China won the women's tournament. With the amount of prize money involved and the extensive media coverage, it's hard to deny the fact that chess tournaments are a big deal on the world stage.
Although the Chess Olympiad is by far the biggest worldwide chess tournament out there, there are also other, smaller ones, such as the Chess World Cup. This has taken place sporadically over recent years, and doesn't hold anywhere near the significance of the Chess Olympiad.
Popularity of Chess
Chess tournaments are not just held on an international scale, either. They are very popular and many of them are held on a local, or regional scale, in different countries across the world. Online tournaments are also now popular, where people can compete online against other chess players, or computer-simulated chess players. Indeed, computer-simulated chess tournaments are now very popular, so much so that there is actually an annual World Computer Chess Championship, which is a competition where computer-simulated chess 'players' play against each other.
Formats
Most chess tournaments, no matter how big or small they are, either follow the round-robin format, or the Swiss format.
In the round-robin format each participant plays against everyone else an equal number of times. A ranking or rating system might put players into certain groups, based on ability. This format is normally used for smaller tournaments.
The Swiss System format, on the other hand, is used for bigger tournaments. Players are paired against other players who have equal points to theirs.